The rapid development of splash park has quickly become one of the most popular supporting facilities for communities, shopping malls, schools, resorts, and hotels. It provides a fun, safe and fascinating playing group in the water, which is the fastest way to cool down! If you want to bring your kids to play in the water, then of course the splash park is your first choice.
Splash park is a children's amusement park, with water sprinklers and fountains, where children can freely embrace their beautiful children This is the best parent-child experience for you and your children's end, you will also allow your children. release, have fun and enjoy freedom.
Cenchi Splash Park will have water playground, water attractions and features etc. Our designer team will make full use of the space and environment to create an exciting splash park for family. As long as you have one space, Cenchi will provide you a best design.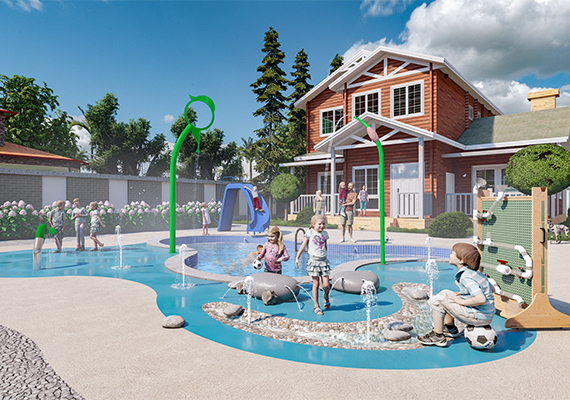 As the temperature continues to rise in summer, playing a happy water trip has become the first choice for many families. Nowadays, people can make a mini splash park at home, and experience the fun of playing with water. People's choices of water play are becoming more and more diverse. Cenchi, as the leader of home splash pad, what is the difference between Cenchi backyard splash pad? Midsummer water trip, arrange it!
Wonderful 200㎡ Spray Playground Design
Looking for a fun way to cool off in the summer without taking up too much space? Consider a mini splash pad! These compact water play areas are perfect for small yards or patios, and can provide hours of entertainment for kids and adults alike. Check out these 10 mini splash pad ideas to get started.
Choosing the Right Splash Pad Manufacturer
If you're in the market for a splash pad for your project or community, it's important to find a reliable and experienced manufacturer. With so many options out there, it can be overwhelming to choose the right one.
Determine Your Needs and Budget
Before you start researching splash pad manufacturers, it's important to determine your needs and budget. Consider the size of the area where you want to install the splash pad, the age range of the users, and any specific features or themes you want to incorporate. Additionally, decide on a budget that you're comfortable with and stick to it. This will help you narrow down your options and find a manufacturer that can meet your specific needs and budget.
Research Potential Manufacturers
Once you have determined your needs and budget, it's time to start researching potential splash pad manufacturers. Look for manufacturers that have experience in designing and installing splash pads, and that have a good reputation in the industry. Check their website and social media pages for customer reviews and testimonials. You can also reach out to other splash pad owners and ask for recommendations. Make a list of potential manufacturers and contact them to ask for more information about their products and services.
Check for Safety and Quality Standards
When choosing a splash pad manufacturer, it's important to prioritize safety and quality standards. Look for manufacturers that comply with industry standards and regulations, such as ASTM International's F2475-20 Standard Specification for Splash Pad Equipment for Water Play Areas. Additionally, ask about the materials and equipment used in the construction of the splash pad, and ensure that they are durable and safe for use. Don't compromise on safety and quality when choosing a manufacturer for your splash pad.
Consider Customization Options
When choosing a splash pad manufacturer, it's important to consider customization options. Every splash pad is unique, and you want to ensure that the manufacturer you choose can accommodate your specific needs and preferences. Look for manufacturers that offer a range of customization options, such as different colors, shapes, and water features. This will allow you to create a splash pad that is tailored to your specific requirements and enhances the overall experience for your users.
Look for Good Customer Service and Support
When choosing a splash pad manufacturer, it's important to consider their level of customer service and support. You want to work with a manufacturer that is responsive, helpful, and willing to answer any questions or concerns you may have. Look for manufacturers that offer a dedicated customer service team and provide clear communication throughout the entire process, from design to installation. Additionally, consider their warranty and maintenance options to ensure that you have ongoing support for your splash pad.
If you're looking for a safe and fun water play area for children, a splash pad is the perfect solution. As a leading splash pad manufacturer, Cenchi take pride in creating innovative designs that are both entertaining and safe.
Do you want more sprinkler pad theme stories?
Wonderful Splash Aqua Park Waiting To You Join
Water spray pad is widely used in public places and commercial places, hotels, holiday materials, campgrounds and playgrounds all over the world. Sprayers can be assembled indoors and outdoors, and they can be used as a good complement to commercial projects. Cenchi can integrate stainless steel and water splash pads of different colors, shapes, themes and other elements into a spray park to attract the attention of children and parents. Everyone runs, jumps, and plays together. In the hot summer, the spray park brings people together.
We care about your Water Fun!
Cenchi can manage your project from beginning to end!
Design Your Own Mini Splash Park!