Playground And Splash Pad
Activity Tower Slide and
Soak Splash Park
The fantastic water play– Multi-level activity tower. Creating endless adventures for kids of all ages, Ready-to-Play structures create aquatic fun for families to spend the day together. Scalable in design, you can start with 50 Sqm smaller model and expand to 2000 Sqm larger model when you decide to expand. Featuring a mix of kids' slides and more thrilling rides, plus over 100 water features, pirate
ship theme, splash jungle and space ship ect. With a versatile range of sizes to fit any footprint, budget, and capacity requirement. These water playgrounds can also be custom themed or choose from our collections gallery. Kids can enjoy all the climbing and sliding fun of a play structure, right in the middle of an exciting splash park. Refreshing!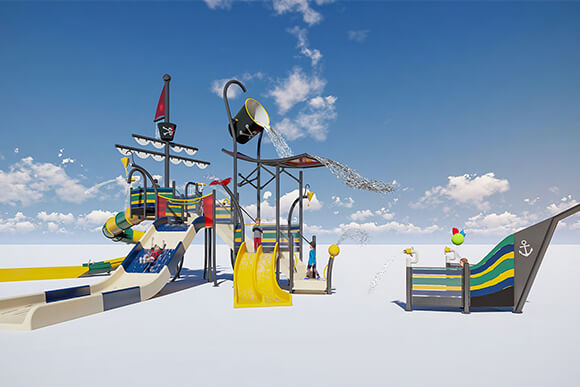 Pirate Ship Adventure Playground
Whenever night falls, the pirate ship sails out. This retro-style pirate ship designed by Cenchi studio will give you the illusion of being on the scene, making the children want to go and find out. start sailing!
The ship has two splash cannon at hull front. Ship body have curved slides, double slides, wide slides, and the clever combination of water slides allows children to shuttle through the water battlefield unimpeded. In the center of the hull, huge water bucket pour a lot of water, adding exciting impact to the pirate boys. The platform got higher and higher, until the mast sprinkler at the last stern heralded the end of the battle at sea, of course, we left a closed slide passage for the last chance to save life.
Blue Space Sprinkler Playground
The waing pool splash pad blue space sprinkler playground, the latest children's splash pad equipment, has a high popularity in the hearts of kids. Unique design style, a variety of color matching, while playing, give children a pleasing experience.
It is combined with Cenchi various fun spray equipment for children to play, combined with entertainment elements and themed views to bring children an extraordinary entertainment experience. The wide venue and superior water play equipment truly create an educational and entertaining environment for the needs of childrens' life, exploration and development.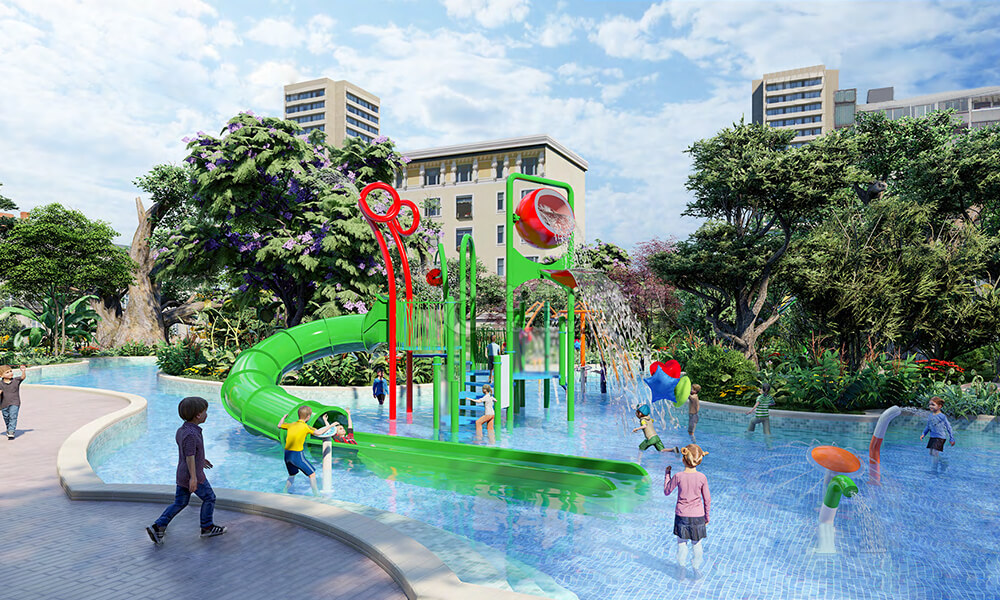 Splash Jungle Activity Tower
Cenchi Splash Jungle Activity Tower, with the theme of children's entertainment, integrates the forest landscape and represents adventure and excitement. Unique in shape and rich in color, the interactive series has various color combinations, subversive water play methods and high flexibility.
Children play in joy, learn in ease, grow in nature, and leave deep memories of childhood. The experience is unique, making it easy for urbanites to find peace and relaxation here. The water play pieces, water houses and water villages, and slides are distributed in different positions through detailed calculation and arrangement. The jungle route is winding and winding, and traverses the entire water park.
We care about your Water Fun!
Cenchi can manage your project from beginning to end!
Request Your Splash Pad Playground!