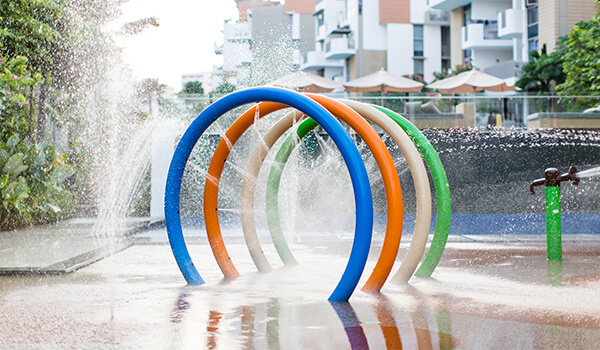 A dreamy mist emanated from the front, magical arch appeared, there is no end to the road. With a nervous and excited heart at the moment, courage to explore forward. It is the right time, sprint! Click for more splash pad product.
Make a Splash with Wet Deck Aqua Loop
Aqua loop splash pads are structures made of durable 304 stainless steel featuring designed for recreation and water play. Unlike swimming pools, the aqua loop splash pads have a non-slip, for vibrant and lasting color on the aqua loop components, colorful surface with water jets and drains integrated into the wet deck flooring. This allows little guys safely play in shallow less than 30cm water.
Wet deck aqua loops take splash pads to the next water play level with tap water and stainless steel components. These aqua loop attractions from miniature to mega are designed for kids of all ages and are much safer than traditional water park equipment. Water spray into the circle center to wet the body while water propels kids to run around bends and between the loop and loop. It's slippery splashing fun!
Splash pads can be customized with nearly any bright, imaginative theme. With colorful designs and imaginative themes, each wet deck aqua loop is a small water park unto itself. Kids can play pirate as they traverse the high seas, journey down a canyon river, or blast off into an orbiting space station. Kids can explore fantasy worlds and spark their creativity while staying cool.
Make a splash this summer at your local aqua loop wet deck splash pad! With the feel of an amusement park water ride in a compact footprint, these mini water parks provide hours of free, unstructured recreation.