Are you looking for a fun and exciting way to enhance your child's water play experience? Look no further than a turtle splash water park!
The turtle splash pad is imaginative aquatic play area perfect for preschools, splash parks, hotels, resorts, community and residential backyards. Shaped like a smiling turtle, these splash pads feature built-in water jets. Water sprays up from the turtle's shell and limbs so kids can frolic and cool off in the water fun. Turtle splash pads are visually appealing structures that quickly become a playground favorite.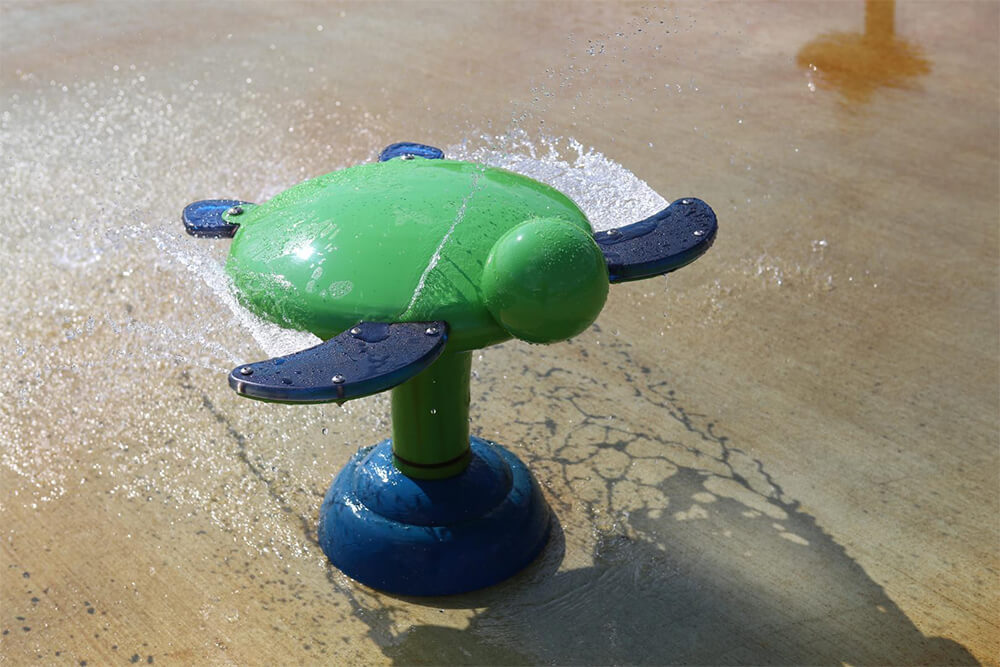 The Materials of Turtle Splash Pad
Turtle splash pads are handcrafted from durable materials like fiberglass, PMMA plexi-board, and 304 stainless steel to withstand outdoor use. The shell and turtle head have vibrant gel coat finishes that resist fading in the sun. The main components are 304 stainless steel fittings to prevent corrosion. Splash pads sit on concrete, rubber, or poured-in-place padding for safety. The playful turtle splash water park disguises secure, high-quality materials built to last.
How to Play on a Turtle Splash Pad
Kids can climb the turtle's back and enjoy its tail in the cool water below. Water sprays up through jets on the turtle's head, shell, and surrounding splash area. Children can splash and play in the gentle water spouts alone or with friends. Turtle splash pads are designed for kids ages 2 to 12 and provide hours of wet, water fun. Also, you can add pool toys and water cannons, and other splash pad combinations for more aquatic enjoyment! Turtle splash pads can accommodate different ages of children water play needs.
Features and Design of a Turtle Splash Pad
Turtle splash pads come in a variety of designs and feature sets, each offering a unique water play experience.
As the name suggests, turtle splash pads are often designed in the shape of a turtle. The turtle's shell acts as the main water play area, while the turtle's head and limbs serve as interactive water features.
Turtle splash pads are equipped with water spraying nozzles that create a refreshing and entertaining water spray. These nozzles can be adjusted to control the intensity and direction of the water spray, allowing for a customized water play experience.
Turtle splash pads typically have a shallow water depth, making them safe for children of all ages. The shallow water allows children to freely explore and play without the need for constant adult supervision.
Vibrant Colors and Graphics
Turtle splash pads are designed to be visually appealing and engaging for children. Vibrant colors, eye-catching graphics, and turtle-themed artwork create an inviting and immersive water play environment.
Turtle splash pads are designed to provide a safe, interactive, and visually stimulating water play experience for children. With Cenchi unique features and captivating design, turtle splash pads are sure to be a hit among kids and adults alike.
Installation and Maintenance of Turtle Splash Pads
Experts first lay a level concrete foundation before carefully assembling the turtle structure. The water system is connected to plumbing lines and equipped with a recirculation pump & UV filter to conserve water. For commercial settings, licensed plumbers handle installation per local codes. In backyards, follow kit instructions for DIY assembly. Proper installation ensures your turtle splash pad provides lasting summer fun.
Where to Buy Turtle Splash Pads
Turtle splash pads are not only suitable for residential use but also make a great addition to parks, resorts, and daycare centers. If you're ready to make a splash and enhance your child's water play experience with a turtle splash pad, you might be wondering where to buy one.
When it comes to exciting and innovative splash pad equipment, Cenchi leads the way. With over 20 years of experience, Cenchi has designed, engineered, and manufactured imaginative water play structures for commercial and residential settings.
Our splash pads utilize the most durable materials and advanced water features that bring delight to all ages. Cenchi offers splash pads in vibrant themes from jungle to sea creatures, along with customizable options to match any vision. As a premier maker of splash pads worldwide, Cenchi creates wet and wonderful water play.