Provide a space for dogs to play in the water. This zone should also be able to socialize and play with family and children, enhance the interaction between family and dogs, deepen the beautiful emotions between members, even improve children's immunity, spend a healthy childhood. Dogs are the most loyal friend of mankind. Your dog deserves the same fun that children all over the world have had for years.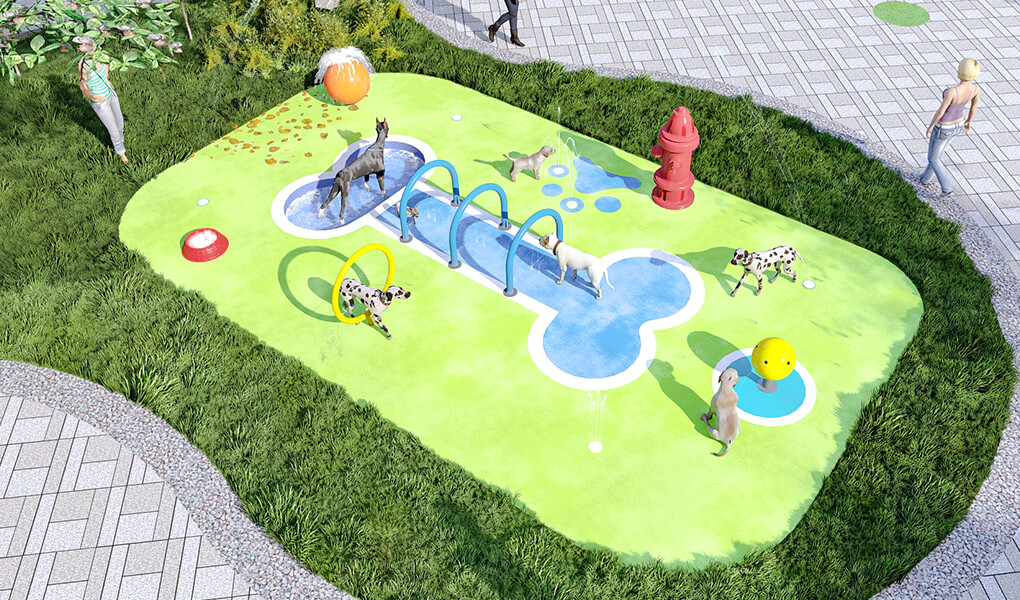 P.E.T. Go is a line of Cenchi that designed and manufactured playgrounds for dogs. Specializing in dog paddling and outdoor dog parks, we offer water play and outdoor training equipment for puppies, medium dogs, and large retrievers as well, and create a canine paradise.
Also the splash dog park with agility trainning playground equipments, you have your choice of a realistic dog bone, a lovely dog house, a drinkable dog bowl, an entertaining dog jump hoop, and an engaging dog bowl with hydrant, you can also choose dog hurdles, dog tunnels, and ramps to exercise your dog's agility and responsiveness.
With Cenchi modular part-block design system, we are fully customizable to adapt to almost any exterior or interior site, ranging from a mini splash pad to a sprawling aquatic play center. Bring water funfinity to your life. The splash park dogs with interactive sprinklers and fountains, where children can freely embrace their love doggie. This is the best childhood experience for children's end, you will also allow your children. release, have fun and enjoy freedom.
People love dog parks because they bring people and pups together. Cenchi regularly receive requests from people asking for places where they can take their dogs to play. Cenchi can make any upscale pet-friendly facility a must-go destination for dog lovers.
Cenchi are dedicated to providing recreational and training equipment for dogs, land-based dog parks, and dog water parks. Of course, you can create a dog park that combines land and water according to your vision.
Cenchi doggie water park are designed to be fun, safe, and efficient and can be incorporated into any open space. The dog playgrounds are scientifically designed to get maximum exercise results for your dog at a healthy pace, we also maintain the highest level of quality as well as safety standards for both dogs and people.
Dog Park Splash Pad: The Perfect Splash Activity for You and Your Pup
Looking for a fun way to cool off with your furry friend this summer? Consider visiting a doggy splash park! These water parks are designed specifically for dogs to play and swim in a safe and controlled environment. Learn about the amenities and safety measures of these parks to ensure a dog park water fun and safe experience for you and your pup.
What is a doggy splash pad?
Dog friendly splash park is a water park designed specifically for dogs to play and swim in. These parks typically have various water features, such as fountains, sprinklers, and pools, for dogs to enjoy. They are often fenced in and have safety measures in place to ensure a fun and safe experience for both dogs and their owners. Some doggy splash pads also offer amenities such as shaded areas, seating for owners, and dog-friendly showers.
What amenities can you expect at a dog spray park?
Doggy splash parks offer a variety of amenities to make your visit enjoyable and comfortable. Many parks have shaded areas where you and your pup can take a break from the sun. Some parks also have seating areas for owners to relax while their dogs play. Additionally, many dog park water fountain have dog-friendly showers to rinse off your pup before heading home. Safety measures such as fencing and lifeguards are also common at these parks to ensure a safe and fun experience for all.
How can you ensure your pup's safety at a dog water park?
While dog water pad park are a fun way to beat the heat with your furry friend, it's important to take safety precautions to ensure your pup stays safe. Always supervise your dog while they are in the water and make sure they are wearing a properly fitting life jacket. It's also important to make sure your dog is up to date on their vaccinations and has been trained to follow basic commands. Finally, be aware of any potential hazards in the park, such as sharp edges or slippery surfaces, and avoid them to prevent injuries.
What are the benefits of taking your pup to puppy splash park?
Doggy splash parks offer a variety of benefits for both you and your pup. Not only do they provide a fun and interactive way to cool off during the hot summer months, but they also offer a great opportunity for socialization and exercise. Swimming is a low-impact activity that can help improve your dog's cardiovascular health and muscle tone. Additionally, spending time in the water can help reduce stress and anxiety in both you and your pup. So why not make a splash with your furry friend this summer?
How can you find a dog water play park near you?
Finding a doggy splash park near you is easy with a quick online search. Many cities and towns have their own dog parks with splash pads or designated areas for dogs to swim. You can also check with your local parks and recreation department or pet stores for recommendations. Before visiting a doggy splash park, be sure to check their rules and regulations, as well as any safety measures they have in place to ensure a fun and safe experience for you and your pup. Or contact Cenchi to build your own dog splash pad park.
A waterpark created especially for dogs would provide opportunities for dogs to enjoy aquatic play and recreation in a controlled environment suited to their needs. With the right facilities and staffing approach, a dog waterpark could provide a fun recreational outlet and socialization opportunity for many well-behaved canines and their owners.
With the proper facilities and rules enforcement, a doggy splash park would give dogs the opportunity for aquatic exercise, play, and social development in a setting tailored just for them. The variety of interactive features will keep dogs engaged and entertained.
The rapid development of public splash pad has quickly become one of the most popular supporting facilities for communities, shopping malls, schools, resorts, and hotels. It provides a fun, safe and fascinating playing group in the city splash pad parks with water sprinklers, which is the fastest way to cool down! If you want to bring your kids and pets to play in the wet deck, then of course the dog park splash area is your first choice.
Let us come up with a doggie park that your pup will love! If you don't see a feature, please let us know, Cenchi have eager to have advice on the new dog splash pad feature.
Dog Park Splash Pads vs. Regular Dog Parks
If you're a dog owner, you know how much your furry friend loves to play and cool off in the water. That's why dog splash park have become increasingly popular in recent years. But are they really the best option for your pup? Discover the benefits and drawbacks of dog park splash pads versus regular dog parks.
Benefits of dogs splash pad for dogs and owners
Waterpark for dogs offer a fun and refreshing way for dogs to cool off during hot summer months. They also provide a unique sensory experience for dogs, stimulating their senses and providing mental and physical stimulation. For owners, splash pads can be a great way to socialize with other dog owners while their pets play. Additionally, splash pads are typically easier to clean than regular dog parks, as the water helps to wash away dirt and debris.
Drawbacks of doggy splash park for dogs and owners
While dog park with splash pad offer many benefits, there are also some drawbacks to consider. For one, not all dogs enjoy water or may be afraid of the splash pad. Additionally, some dogs may become overly excited and aggressive while playing in the water, leading to potential conflicts with other dogs. Owners also need to be vigilant about their dog's safety, as the wet surfaces can be slippery and pose a risk for injury. Finally, splash pads may not be available in all areas or may require additional fees for use, which can be a drawback for some owners.
Benefits of regular splash zone dog day for dogs and owners
Regularly go to dog friendly splash park offer many benefits for both dogs and their owners. Dogs can socialize and play with other dogs, which can help improve their behavior and reduce anxiety. Owners can also meet other dog owners and build a sense of community. Additionally, regular dog splash pad park are often free to use and available in many areas, making them accessible to a wide range of dog owners. Overall, regular dog water parks can provide a fun and healthy outlet for dogs to exercise and socialize.
Customizable to fit your dog's specific needs and abilities
One of the biggest benefits of a splash pad dog friendly is its ability to be customized to fit your dog's specific needs and abilities. Whether your dog is a high-energy athlete or a senior pup with mobility issues, there are options available to create a dog playground that is safe and enjoyable for them. You can choose from a variety of components such as ramps, tunnels, and agility equipment to create a unique playground that will keep your furry friend happy and healthy.
Splash pad dog park easy to install and maintain
Another benefit of dog friendly splash pad is their ease of installation and maintenance. These modular dog playground systems are designed to be easy to assemble and disassemble, making them perfect for both temporary and permanent installations. Additionally, the materials used in these systems are durable and easy to clean, ensuring that your modular puppy playground stays in top condition for years to come. With minimal effort, you can provide your furry friend with a safe and fun place to play and exercise.
Encourages training agility activity and exercise
One of the best splash pad for dogs is that it encourages agility trainging for your furry friend. With various obstacles and activities to engage in, your dog will have plenty of opportunities to run, jump, climb, and play with spalsh. This can help improve their overall health and fitness, as well as prevent obesity and related health problems. Plus, regular exercise and splash play can also help reduce stress and anxiety in dogs, leading to a happier and more relaxed pet.
As a dog owner, you know how important it is to keep your furry friend healthy and happy. One way to do this is build a dog splash pad. Local indoor dog park, outdoor or commermercial. These innovative systems of dog pool splash pad offer a range of benefits, from providing exercise and mental stimulation to promoting socialization and reducing destructive behavior. Give your furry friend the gift of health and happiness.
Cenchi can manage your project from beginning to end!
Request Dog Splash Pads Catalog!