How water parks always stay fresh, Aquatopia Water Park in Australia is a great example for us. In the stage of planning and design of the park, reserve enough space for later expansion and new elements, implement phased construction, continue to expand, and constantly add new equipment, new elements, and new gameplay, which can keep the water park fresh for tourists. In the face of changes in market demand and industry development, there is time and space to calmly respond.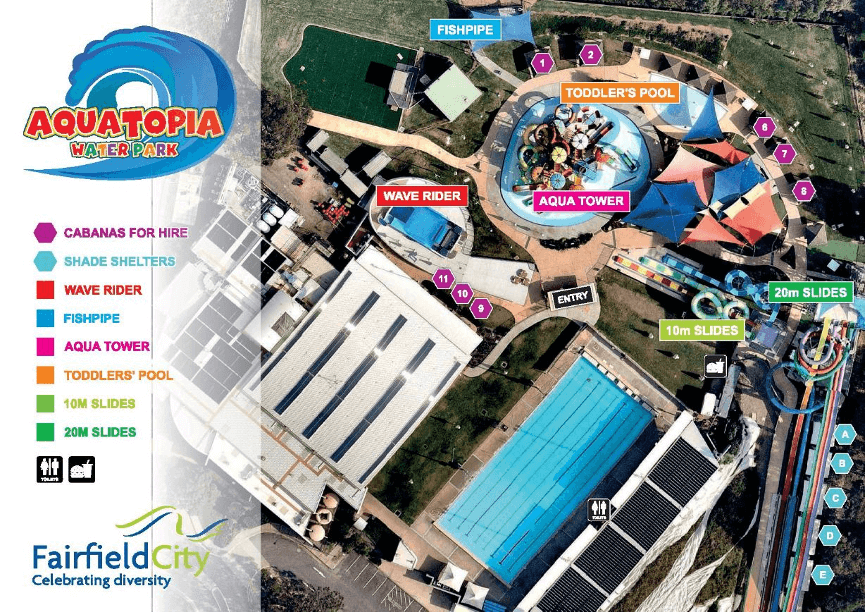 For parents and children in Sydney's western suburbs looking for a cool place to cool off from the sweltering heat, Aquatopia, a unique, ground-breaking outdoor playground water park, is part of the Prairie wood leisure complex .
Prairiewood Leisure Centre is a large aquatic centre with a 50-meter outdoor pool, 25-meter indoor pool, gym, indoor water sports area and several other facilities. The center is designed to meet the health and recreational needs of the local community, and the completion of the outdoor playground water park has enriched the way to play here and has the ability to attract more visitors to experience it.
Swimming lessons here are suitable for all ages, from infants, preschoolers, teenagers to adults, anyone who has no swimming skills at all or who wants to improve their skills can take swimming lessons here. Memberships come in a variety of packages at reasonable prices, making them affordable for those living in the surrounding area.
The most unique feature of the leisure center is undoubtedly the Aquatopia water park. Aquatopia has become one of the most popular places in Sydney during the hot summer months, thanks to its combination of paddling equipment that provides fun for all types of people.
01. Create A Variety Of Water Play Methods In Stages
Aquatopia was built in four phases, the first of which began in 2015.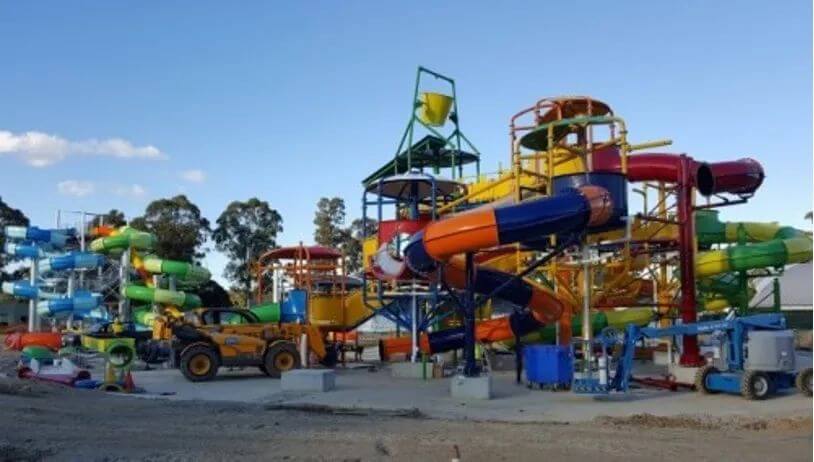 In 2016, Aquatopia Water Park officially opened, the first phase of which includes a large water play area and a 10-meter-high water slide tower. This large-scale water ride is still the core of the water park today, sitting on an 800-square-meter colorful zero-depth paddling area. The four body slides that descend from the 10-meter tower offer different experiences for people of all ages.
Additionally, the first phase of the project includes a toddler pool, as well as a series of rentable cabanas to help families spend a full day at Aquatopia.
Following the successful opening of the water park, Aquatopia added a new "Stingray" slide (Stingray), as well as a large surf simulator from Murphys Waves, and in 2017 also hosted a fish tube inflatable water slide event. In 2018, the water park underwent the next phase of expansion. The expansion includes a 20-meter-tall slide tower, and new water slides include a three-lane racing slide, a free-fall slide and a rocket-pod-style body slide.
After four stages of construction, the comprehensiveness of water play in Aquatopia water park has been upgraded to a different level, and it has been highly welcomed by tourists.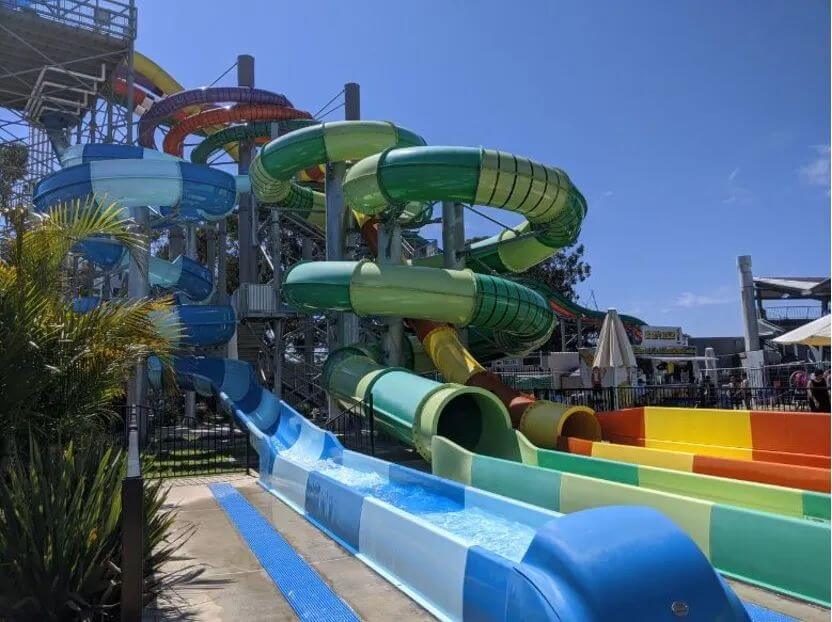 02. Continued Development Of The Water Park
Following the success of the first four phases, the water park is ready for a new expansion, which started in 2019 but was delayed until 2021 due to the challenges posed by the Covid-19 pandemic.
For the recent expansion, the water park decided to add a wave pool. Executed by the Aquatic Development group, the program created a wave pool designed and built for the surfing experience, with three different applications: pedal surfing, novice surfer practice and recreational waves. The project presented a number of unique challenges beyond traditional wave pool design, including designing a wave pool within a limited area that would meet surfing conditions and transform into regular waves at leisure, and the requirement to set aside space within the wave pool. A pool space for swimming lessons.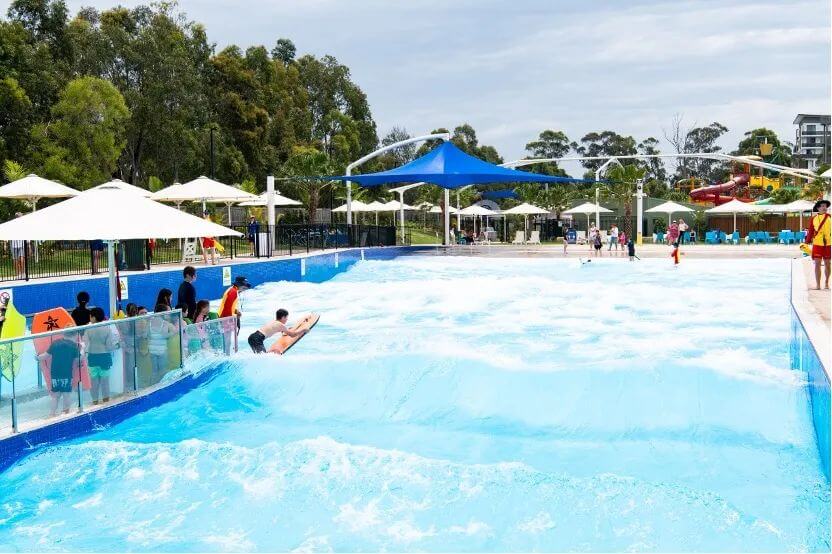 Swiplex Aquatics is again involved in helping to build this complex wave pool. Working within a limited site plan, ADG and Swiplex were challenged to design and build this pool, which offers a wide variety of waves, within a compact footprint of just 40 meters.
Despite the challenges, the wave pool opened at the water park's opening in November 2021. Since its opening, this wave pool has been popular with tourists due to the water play experience and the attractiveness of its surrounding equipment. Surrounded by tropical landscaping, with a large screen and several new cabins available for rent, the wave pool is becoming a major distraction for a day at the water park.
03. Innovation Never Stops
From the outset, Sydney Field Council built the park with the community's leisure needs in mind, and it has been a huge success. Originally designed to provide family entertainment at a reasonable price, it is now not only a way to meet the needs of local residents, but also an important way to attract other tourists in the Sydney area. In order to keep this park fresh, the management team will continue to absorb visitor feedback and market demand, and innovate and develop more exciting gameplay and activities.
In the near future, Aquatopia water park will usher in the children interactive splash park section, outdoor water play areas for children of younger ages, providing aquatic playground equipment suitable for all ages, adding more possibilities for the park's inclusiveness. Cenchi is one of the few Top children splash pad park equipment manufacturers in the world. Has 17 years rich experience and knowledge, had finished kids splash park projects and the supporting splash areas in 3000 Sqa large water parks, more than 80 cases. Our splash pad equipment suitable for residential, hotel, resort, community and commercial area. Contact Cenchi team for the best solution today!