Theme water park have been around for a long time, and immersive experiences are a very popular concept. However, due to its special facilities and play methods, although there are many "theme" water parks in the water park, the real experience has never been able to achieve the theme atmosphere created by the land park. With the blessing of Warner IP, Spain's Warner Beach Water Park has pioneered the creation of the "DC Universe Themed Water World", which subtly and naturally integrates theme elements and IP stories into water amusement equipment. Let's see if this It is an innovative attempt worth learning from in the industry.
Parque Warner Beach is a popular theme water park in Madrid, Spain, operated by Reunidos, located next to the operator's Warner theme park. Like the neighboring park, it is also home to a series of Warner Bros. IP attractions, themed around some of the most beloved characters from the DC universe, such as Batman, Harley Quinn and more. This summer, Warner Beach water park once again adds a unique color thanks to the addition of two new water slides, Aquaman and Black Manta.
Black Manta (Black Mantis) is a 120-meter-long, 14-meter-high tornado (Tornado WAVE) slide, Aquaman (Water Flying Man) is a UFO (FlyingSAUCER) slide. Together, these themed new rides form an iconic play tower, a new attraction for the water park and Europe's first combined tower with tornado and UFO slides.
Black Manta features ProSlide's latest curved wall form factor, currently installed in more than 50 water parks and resorts worldwide. Visitors rush from a tornado onto the majestic curved wall, then sweep across the top to experience the thrill of zero gravity. At the same time, FlyingSAUCER is a high-speed slide technology that redefines the experience of high-speed turns in water slides. To date, FlyingSAUCER has been installed in more than 40 water parks around the world.
To learn more about Warner Beach's new addition, blooloop spoke to Warner Beach General Manager Diego Gracia.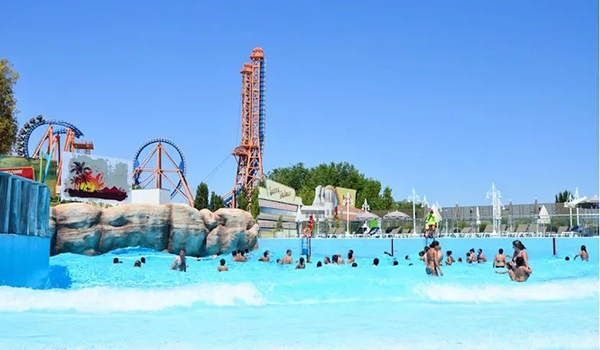 Warner Beach: A Special Water Park
Talking about the uniqueness of Warner Beach, general manager Gracia said, 'This is a water park that appeals to the whole family. What makes it special is that it features the most popular Warner characters, such as DC Comic characters, Looney Tonges, Hannah Barbera and more. '
Warner Beach is taking Spanish water parks to new standards. The internationally renowned Siam Parks in Spain are a great example for us – they set the benchmark for water parks around the world. But mainland Spain is a bit different, so we also need to add novel rides in a targeted manner to increase the popularity of the park.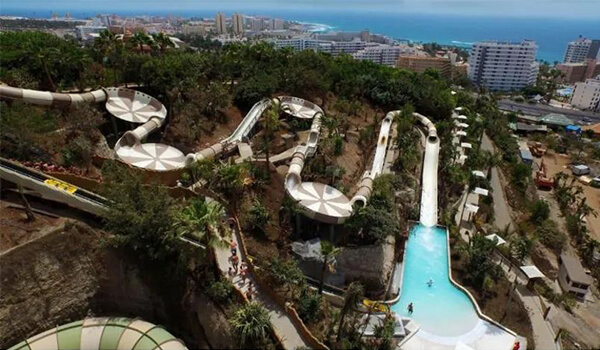 These two brand new slides are iconic. They incorporate some of the latest innovations and technologies in water rides. These two are five-person family rides, especially for Madrid and Warner Beach, this kind of water ride is also novel and interesting. Of course, this gave them a signature water park slide tower, something that had been lacking before. Warner Beach is now home to these new rides, and the visitor experience on both rides is different from that experienced in many other parks in Europe. "
Gracia added: "We wanted to have two new family pool slides in the expansion, with a large capacity, suitable for our positioning of the park for families of all ages. When ProSlide showed us their proposal, we were sure that this is the right place. What the park needs."
Sophisticated Themes in Warner Beach
Aside from the well-planned thrills, one reason these new rides draw visitors is the theme. As the name suggests, the waterslide's name evokes DC Comics characters Aquaman and Black Manta, creating a pair of eye-catching attractions. The theme water park are the top favorite leisure center of all ages. The combination of water and fun makes it unique and fascinating.
A well-known manufacturer of amusement facilities for the park introduced: "Theme parks have existed for a long time, but there are not many themed water parks. There are few examples of themed water parks in the world. The best example in Europe may be Lulu in Europa Park. Landica Land, or Siam Park in Spain. But in most cases, you will find that the so-called theme is just to create a tropical atmosphere with typical landscapes such as palm trees, rather than an immersive storyline."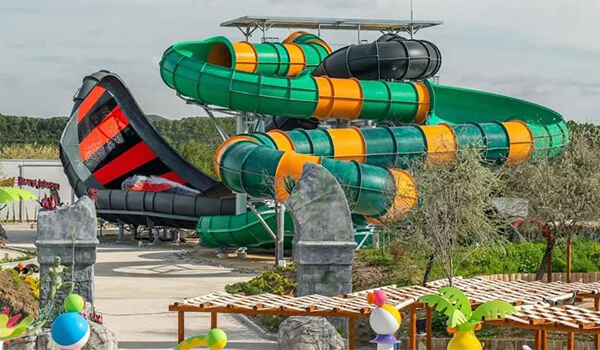 "This project presents new opportunities for Warner Beach and Reunidos Park to utilize the Warner Bros. IP in their water park. It's also something a little bit new and different for us. It's clear that they wanted to incorporate It was very interesting to incorporate the vision of Black Mantis and Aquaman intertwined, as if they were fighting. It was a request from Reunidos Park to achieve this visual fusion between the two. So they actually The color scheme and design adopted in the implementation are also very much in line with this vision, adding thematic elements and IP to the ride."
Warner Beach brings good memories to tourists. Gracia, the general manager, said that the slide tower has been opened this summer and has been widely welcomed by guests.
"Visitors are very happy with the two new attractions, Aquaman is great for families and Black Manta provides the excitement that young people are looking for, so they can reach families and teenagers It's the perfect balance we're looking for, and all the comments we've received so far have been overwhelmingly positive and positive."
"In operation, we can often see guests come off the raft and go straight back into the line, line up again to ride the slide. This is the best testament to the ride. They land on the ground, and then run all the way back, again Queues. It means happy guests and repeat visits increase water park traffic, which makes us very rewarding."
Whether you're looking for a place to relax or a new way to beat the heat, theme water park is the perfect summer destination.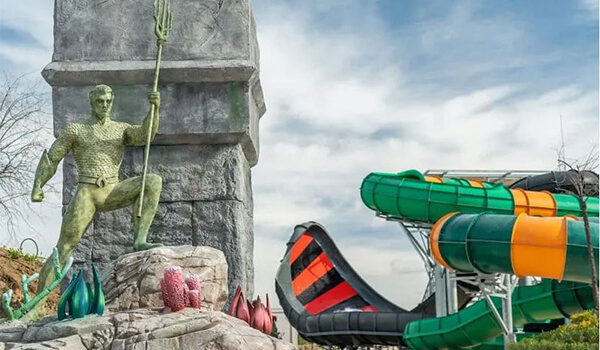 DC Universe Animated Original Movies (DCUAOM for short), is a series of superhero animation films produced by Warner DC, adapted from DC comics, existing in the virtual universe, with independent and different views of the universe, by Warner Home Entertainment Issued by the company.
Come enjoy the Spani Warner Beach Water Park and its fun-filled environment. Let nothing distract you from the thrill of water sports, speed waterslides, and family entertainment.