When designing water parks and other Aqua Spray Pad Park playgrounds, efficient operation and energy conservation are often overlooked. In this issue, Cenchi will learn about cutting-edge new materials and energy saving technologies, and explore the possibility of integrating these wisdom and sustainable elements into the design of the spray park, so as to improve the design ideas of the splash pad park and make the products finally presented more competitive and profitable.
The functions of Aqua Splash Park are generally divided into four categories: learning, competition, entertainment and fitness. Although each of these categories has a different ultimate goal, all categories of water playgrounds need to consider maximizing operational efficiency and profitability, which can be addressed through smart and sustainable design.
In addition to the basic project needs, the owners, operators and designers all seek beauty, functionality and material safety to meet the project standards, maximize the control of overall investment, reduce costs and ensure the service life of facilities. In the long run, one aspect of efficient operation is to include sustainable elements that can reduce the overall building energy consumption of Aqua Park Water Park Equipment. Sustainable design elements can take many forms, some of which are obvious and some of which are hidden. However, when integrated into the overall design and vision, they can always play a significant role.
Innovation design with sustainability, maintainability, adaptability, responsiveness and thoughtfulness is a necessary condition for new construction and reconstruction of water venues. The following design elements can help designers in aesthetics, functionality and energy efficiency.
01. Suspended Roof And Integrated Sunshade
If properly implemented, the suspended roof enables large area of glass to be installed on the top of the building, thus creating a better indoor water playground visual effect and helping to control the heat generated by direct sunlight. The position of the sunshade shall be set according to the actual situation to block the glare in winter and minimize the solar radiation in summer. The sunshade can also be used as a dynamic design element to cast changing shadows or dynamic information effects.
In the case of no deep suspension or integrated sunshade, the color changing glass can be selected. The color changing glass is a kind of tintable glass. The operator or automation system can directly control the opacity of the glass. The color changing glass can contact and offset the sunlight to the maximum extent. In this way, the venue does not need a secondary shading system, which can save costs. The tinted glass management system can be programmed for each area to respond to different sun directions and intensities as needed.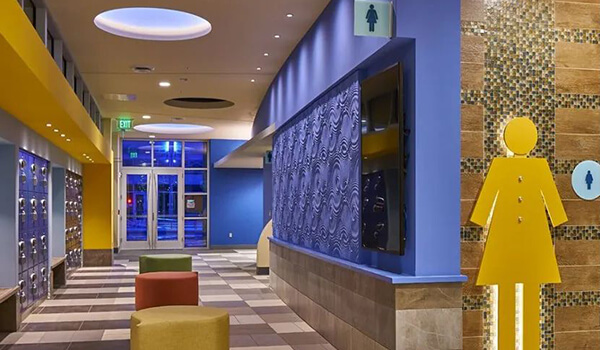 02. Kids Aqua Splash Pad Skylight And ETFE Roof
One of the easiest ways to reduce operating costs is to reduce power consumption and maximize the use of daylight. Integrating solar tubes and skylights is an effective way to reduce power load. Skylights maximize the introduction of natural light into spaces where glass domes cannot be built. In more restricted spaces, solar tubes offer similar benefits with smaller footprint. Using prefabricated flexible systems, solar tubes are a cost-effective solution for new buildings and renovation projects.
In a larger scope, ETFE (tetrafluoroethylene) system is a cutting-edge solution to maximize the use of sunlight. ETFE is a plastic designed with high corrosion resistance and strength, which can resist high temperature and can be used for roof and wall panel systems. ETFE provides a futuristic design. At the same time, it maximizes the use of sunlight to transform the enclosed area into a bright and dynamic space, so that users can enjoy protection while feeling like they are outdoors.
As a roof system, ETFE has the following advantages:
Lightweight and highly transparent
Noise reduction
Durability
Self cleaning
Recyclable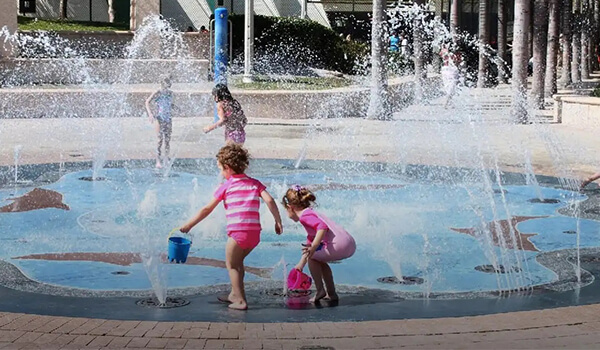 03. Other Sustainable Design Elements Of Aquatic Water Park
In the design phase, various energy-saving and water-saving designs can be considered for the kids aqua splash pad park to ensure the efficient operation of the venue. As time goes by, the functions of these systems become more and more abundant, which ultimately saves energy and improves the overall life expectancy of operating facilities and equipment. At present, more mature energy-saving design elements include:
Solar heating swimming pool and indoor swimming pool enclosure;
Efficient LED lighting, including emphasis lighting, to enhance aesthetics;
Variable speed motor;
Rainwater filtration system;
Drought resistant surface landscape with the most advanced irrigation system;
Low flow device can reduce the use of drinking water;
Vehicle charging station, etc.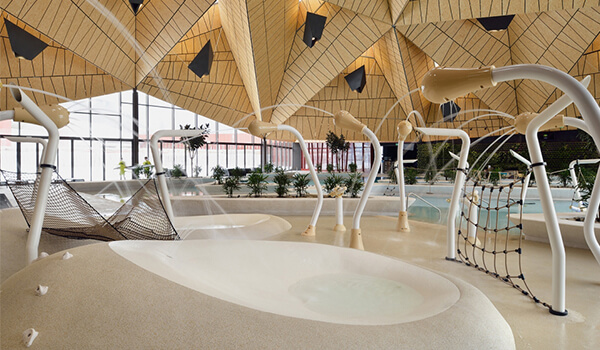 04. Water Resources Protection
Water management and water resources protection are a key element of the aquatic park and splash pad. The following elements have a direct impact on the operating costs of the aqua splash water park:
The pool lid helps to conserve energy by keeping heat in the water and reducing evaporation.
The pool temperature can be properly reduced when not in use, which can inhibit water evaporation.
Regular equipment maintenance helps to keep filters and other equipment operating effectively, prevent leaks, and reduce overall water consumption.
Flush free urinals can save hundreds of thousands of liters of water every year.