A splash park pirate ship is a popular water play feature found in many amusement parks and water parks around the world. It is typically designed to look like a pirate ship, complete with masts, sails, and a variety of water features that allow children and adults to play and cool off on hot summer days.
The pirate ship is usually located in a wading pool and is designed to be safe and fun for all ages. It may include a variety of water features, such as water cannons, sprays, and fountains, as well as slides, ropes, and other obstacles that children can climb on and explore. There are several different ways to play on the Splash Park Pirate Ship. You can go down the pirate water slides, spray each other with water, or even play on the pirate ship.
Many splash park pirate ships are themed to look like real pirate ships, with detailed designs that include everything from skull and crossbones flags to wooden decks and cannons. Some even have sound effects and music to create an immersive experience for visitors.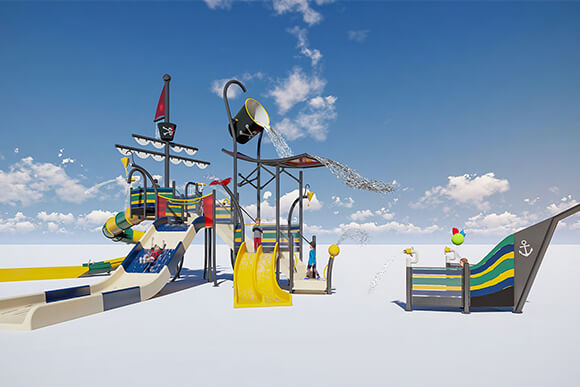 In addition to providing a fun and refreshing way to beat the heat, splash park pirate ships also offer a range of health benefits. Water play is a great way to improve cardiovascular health, build muscle strength and endurance, and improve balance and coordination. It is also a great way to improve social skills and promote teamwork, as children work together to explore and play on the pirate ship.
Overall, the splash park pirate ship is a fun and exciting feature that is sure to delight visitors of all ages. Whether you are looking for a way to cool off on a hot summer day, or simply want to experience the thrill of a pirate adventure, the splash park pirate ship is a must-see attraction for anyone visiting an amusement park or water park.