Swimming Pool Water Slide
Hot Sale Swimming Pool Slides
Summer is almost here — which means so are the days when we'll need to cool off and chill out on a regular basis. Thankfully, swimming pool water slides let you bring out your inner child and truly make the most of the sun, and you can purchase them for your backyard, don't forget to take a look at our round-up of the best above-ground pools! Perfect for kids and adults.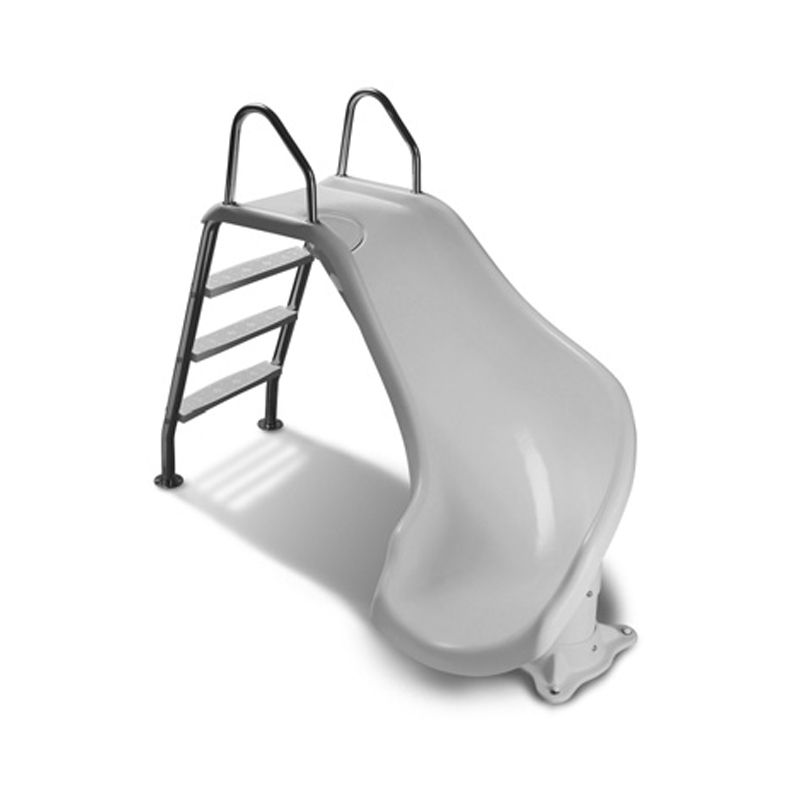 Residential Swimming Pool Slides
A swimming pool slide is the perfect way to transform your own backyard into a personal water park, and we only carry the highest quality swimming pool water rides. Cenchi fiberglass pool slides are equipped with the best water flow, are highly durable for years of fun and excitement, and come in a variety of shapes, sizes and have blue, white, grey colours option.
The Cenchi pool slide is one of the more approachable options for residential pool slides in terms of prices, left or right curve slide, with dia 3″ hard stainless ladder, can bearing 200 Ibs, it's the second tallest in the company's fleet of options. Your backyard pool is instantly transformed from the typical standard into an amazing mini aquatic park.
With the improvement of life and the yearning for water sports, people are not satisfied with the play space only in the backyard of the house. Therefore, Cenchi has developed a pool slide with a width of 3ft and a height of 10ft, which is more suitable for entertainment by the pool.
Commercial pool water slides built with premium FRP materials for your swimming pool. Cenchi can adopt standard and custom water slides to fit your unique needs, all in varying sizes, colors and price points. Upgrade the pool at your country club, community, hotel, resort, commercial and schools.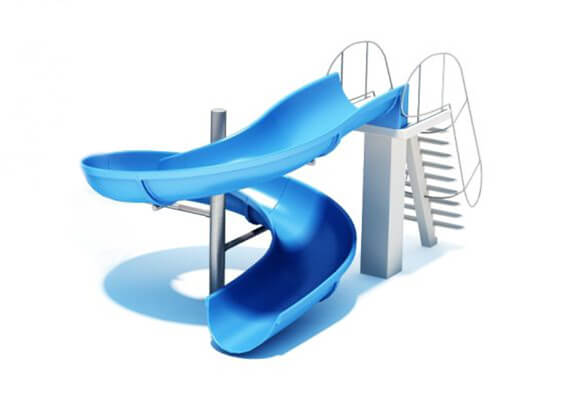 Making a Splash: Tips to Choosing the Perfect Residential Pool Slide
Residential pool water slides are a fun addition to any home pool that both kids and adults can enjoy. Home pool slides come in a variety of shapes and sizes to suit different spaces and budgets. Some of the most popular options for home pools include simple curved slides, spiral slides that twist around, and speed slides that provide an extra thrill.
For smaller yards, compact mini slides and small spiral slides are good space-efficient choices. Fiberglass are commonly used to construct home pool water slides and are durable and weather-resistant. Installing a slide into an in-ground pool requires excavating a slide path in the pool wall and securing the slide supports to safely hold the weight. For above-ground pools, slides can hook on to the pool edge. Slides are a great way to transform a standard swimming pool into an exciting backyard waterpark attraction.
Size of slide: Choose a slide size that is suitable for the users and pool size. For residential pools, smaller residential pool slides like straight-leg slides, bullet slides, or short tunnel slides are good options. Larger slides require more space and higher water volume in the pool.
Material: Fiberglass is a popular material for home pool water slides. Fiberglass pool slides are more affordable but stain and fade more easily over time, they need to renew to paint, and that is easy for boys. Fiberglass slides last longer but tend to be more expensive. This material works well for home pools if properly maintained.
The shape of slides: Classic curved slide shapes, like circular slides, Bullet slides, and spiral tube slides work well for home pool slides. More extreme slide shapes with steep drops or loops typically require commercial pools and professional installation.
Cost: Residential pool slide costs range from under $1300 up to $5,000 or more for economic fiberglass slides. Fiberglass straight-leg slides and small tunnel slides around 6 to 8 feet high are typically $2,000 to $5,000 for residential use.
Make a Splash with an At-Home Pool Slide
For fun-filled summer days and pool parties, nothing beats the thrill of a backyard pool slide. Installing a residential slide is an easy way to upgrade your standard swimming pool into an exciting waterpark attraction that family and friends will enjoy for years to come. Bring the excitement of waterslides into your own backyard with a custom residential pool slide. Make a splash this summer and see the joy it brings for summers to come!
Does this help give you some guidance on choosing a residential pool water slide for home use? Let me know if you have any other questions.
Related Pool Water Slides
You are not the only one here to touch us, you win the same service as others, even newer or fantastic, just share your idea with Cenchi, we do the best to suooprt, your contact is our best prize to improve our technology, service, and products.
We care about your Water Fun!
Cenchi can manage your project from beginning to end!
Request A Pool Slides Quote!